Our programme, Bachelor of Business Administration in Accounting has been designed to meet the growing needs of the industry as far as accounting professionals are concerned. Accountants today are expected to participate extensively in the general area of business management. The profession of accountancy is becoming increasingly different, encompassing such areas as financial and operational auditing, management advisory services, operations research, information systems development and assurance, financial reporting, corporate tax planning, and cost analysis and control. This programme offers the students with the opportunity to acquire theoretical knowledge as well as skills related to practical accounting, which would enable them to attain expertise in their professional sphere of work.
The objective of the Bachelor of Business Administration in Accounting is to prepare students with the knowledge and skills related to business management and basic understanding of the concepts and aspects of business management as well as accounting. Our program primarily focuses on the analytical and quantitative skills as far as accounting is concerned. We also work towards the enhancement of the strategic and critical thinking ability of the students as well.
Minimum Duration: 36 Months.
Maximum Duration: 48 Months.
January
May
September
– Pass STPMIA Levels with minimum 2 principals; or
– Foundationl Pass Matriculation Programme in related field; OR
– Pass Diploma in relevant field; OR
– Any other equivalent qualifications recognized by the Malaysian Government
International Students:
For non-Malaysian citizens, please refer to the Malaysian Qualifications Agency's (MQA) List of Overseas Qualifications & Equivalency with its Malaysian Education System (PDF) to see you qualify for this course.
LIST OF COURSE/MODULE OFFERED IN THE PROGRAMME
YEAR 1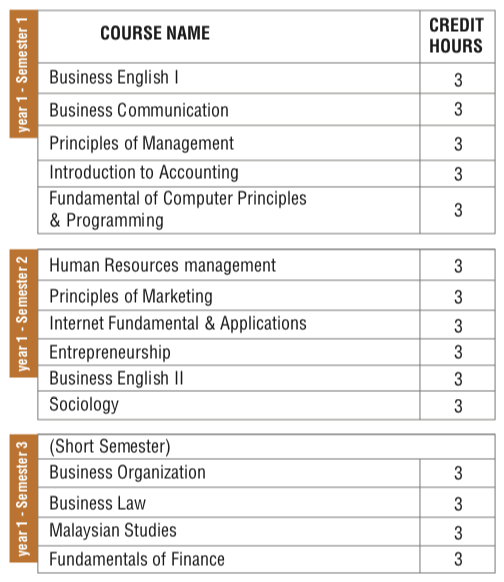 YEAR 2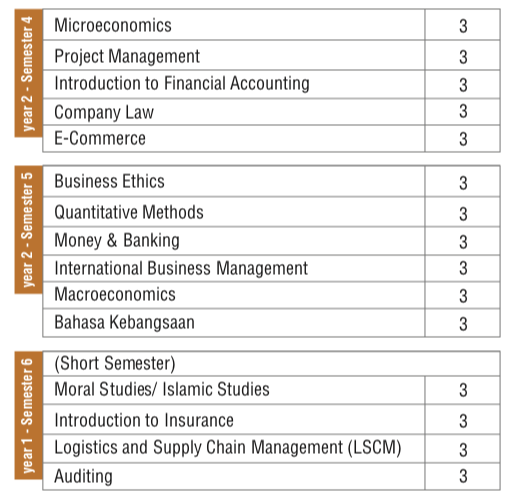 YEAR 3